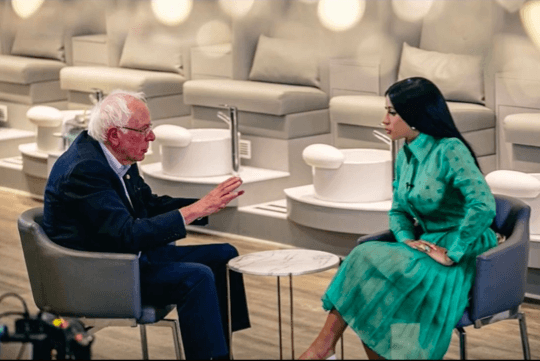 The full video of the conversation between Cardi B and Democratic presidential candidate Bernie Sanders hasn't yet been released, but earlier this week the "Money" rapper showed a clip of the conversation on her Instagram. In the clip, Cardi B and Senator Sanders talk about the minimum wage, which is a hot topic to all Americans. Although the video is a minute and thirty seconds long, it is filled with information and answers that will be helpful for voters in the next presidential election.
Cardi wastes no time and asks Senator Sanders, "What are we going to do about wages in America?" and continues "for example, me as a New Yorker, not now but you know, when I was not famous, I just felt like no matter how many jobs I get, I wasn't able to make ends meet. Like, I wasn't able to pay my rent, get transportation, and eat." Sanders responses show how appalled he is with the minimum wage of the country and informs the rapper of his plan. "Legislation that I've introduced, which was passed in the House recently, would raise that minimum wage to $15 an hour," Sanders states. "What we also have to do is make it easier for workers to join unions so they can sit down and engage in collective bargaining and earn a decent living."
At the moment, this is the only clip that is out from Cardi B's and Bernie Sanders' discussion, but she has let fans know that it won't be the only one. On her Instagram, Cardi B wrote "Keep sending your questions, we will be addressing more of these soon!"
We can't wait until the full video is revealed. Until then, you can watch the clip below.
Image Source: Youtube