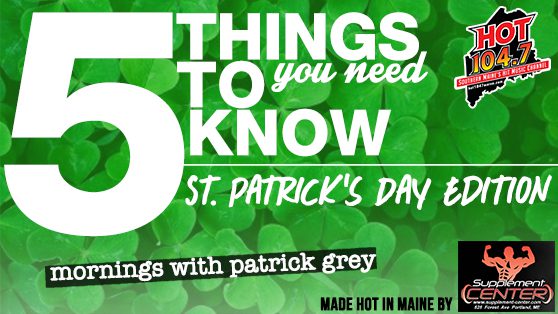 Believe it or not, St. Patrick's Day is more than a beer chugging holiday!
1. The holiday commemorates Saint Patrick and the arrival of Christianity in Ireland. It's also the perfect opportunity to celebrate the heritage and culture of Irish people in general.
2. March 17 is the death date of Saint Patrick, Ireland's patron saint.
3. Saint Patrick is said to have used the shamrock as a metaphor for the Christian Trinity. However, the shamrock may have been important even before the coming of Christianity.
4. The first St. Patrick's Day celebration took place in America in Boston in 1737.
5. People are expected to spend $4.6 billion on St. Patrick's Day this year, and drink 13 million pints of Guinness.
Extra fun fact: If, by chance, one did happen to find a mystical pot at the end of a rainbow this St. Patrick's Day, and it contained 1,000 gold coins weighing one ounce each, WalletHub estimated the total current worth at $1.26 million!
#5TYNTK Made HOT in Maine by Supplement Center, Portland!