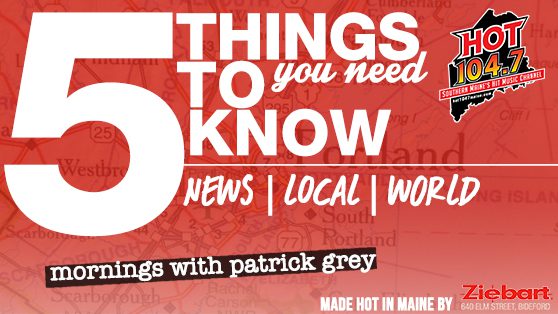 1. Pregnant? Or think you might become pregnant? Doctors have issued a new warning about consuming alcohol of any kind while pregnant.  The American Association of Pediatrics published a report in the medical journal Pediatrics on Monday that found drinking alcohol at any stage of pregnancy poses health risks to the fetus.
2. The investigation continues on cargo ship El Faro. El Faro was just 20 miles from Hurricane Joaquin's eye at last communication. The NTSB releases that detail – and describes some safety precautions taken by the ship's crew – as part of its investigation into the disaster that killed all 33 crew members.
3. The Maine Department of Corrections is proposing changes to the rules that govern the way prisoners communicate with the outside world. According to the Press Herald, inmates in the custody of the Maine Department of Corrections may soon be blocked from having any communication with the outside world. Or possibly just no communication with journalists. Or maybe just no correspondence with pen pals.
4. Flu season is upon us, and Mainers are starting to get their flu shots! The shot takes about 2 weeks to go in effect and generally lasts through February, which is normally peak flu season.
5. What a historic day! Today is Back To The Future Day!! In Back To The Future II, Marty McFly time-travelled to this date, October 21, 2015. We might not have flying cars, shoes that tie themselves, working recreational hover boards (but we're getting there), but there are some things that the movie predicted correctly!
#5TYNTK Made HOT in Maine by Biddeford Ziebart!