Tom Brady, The G.O.A.T., the one who can do no wrong in the eyes of New England, is facing some heat over a now-viral video that has gained about three million views. The video shows Brady and his youngest child standing at the edge of a cliff, above a body of water.
As six-year old Vivian appears to say something, Brady walks to the edge and holds her hand. They leap in the water but in the video, it seems as though his daughter didn't want to jump and hesitated while Brady "dragged" her in. Watch the video below:
The six-time Super Bowl champ thought it was a sweet family moment, but others on social media had other thoughts, including Dwayne "The Rock" Johnson: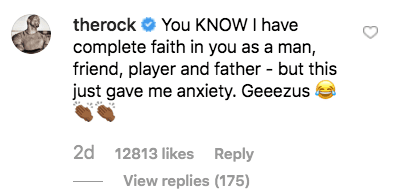 This isn't the first time the football star has faced criticism about his parenting. In January 2018 in his Facebook documentary Tom vs. Time, he was shown getting kisses from his pre-teen son John Edward Thomas Moynahan on the mouth.
The video definitely made us nervous, but it's good that no one was hurt jumping off the cliff. Brady just wants to have a good time with his kids and he doesn't deserve to be criticized off the field as well as on the field.