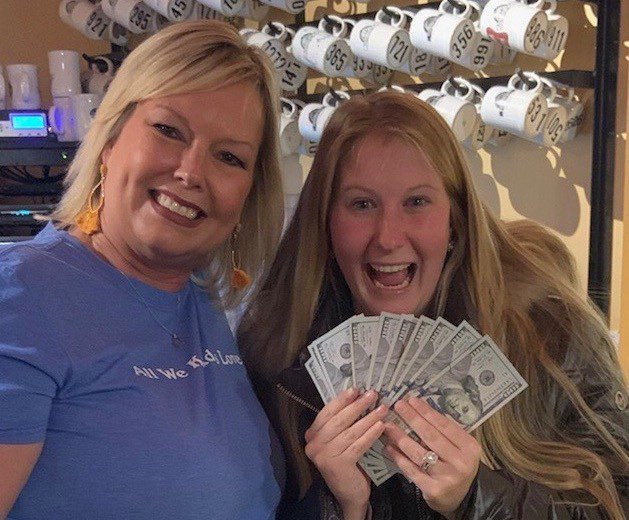 Congratulations to our Week #3 Hot Radio Maine Partners Bank Secret Santa winner, Victoria from Buxton. She tracked down our third Santa, Mary, at her place of employment Wednesday at 5:34PM. Here's how the clues broke down…
MONDAY 7:20AM – The Secret Santa's two workplaces are in the same county as the week one Secret Santa's workplace. (Cumberland)
MONDAY 5:20PM – The Secret Santa is the same age as the person with the phone number 917-746-1444.(Diddy – 50 Years Old)
TUESDAY 7:20AM – The Secret Santa has been known to fake bake. (Mary Tans)
TUESDAY 5:20PM – The Secret Santa is 2 feet shorter than Tacko Fall. (Mary is 5'6″)
WEDNESDAY 7:20AM – The Secret Santa is surrounded by good spirits at night. (Mary is a bartender and serves spirits aka liquor.)
WEDNESDAY 5:20PM – The Secret Santa has something in common with the Frank Ocean album released on August 20, 2016. (Mary is blond.)
These are all the clues Victoria from Buxton needed to find Mary, a bartender at the Scarborough Portland Pie, and win her $1,000.
New Hot Radio Maine Secret Santa hits the streets of Southern Maine on 11/25 with another $1,000. Listen for clues weekdays at 7:20AM w/ Ryan and 5:20PM w/ Hayley. Clues will be posted on IG, Twitter, and FB 20 minutes later. Use the clues. Find the Secret Santa. Be the first to ask him or her the correct question, exactly as it is here – "Are you the Hot Radio Maine Partners Bank Secret Santa?" and WIN $1000.
Full Contest Rules Here.
The Hot Radio Maine Secret Santa is made Hot in Maine by Partners Bank. Shop anywhere, any time, with 24/7 mobile and wallet features. Find out how at partnersbankonline.com