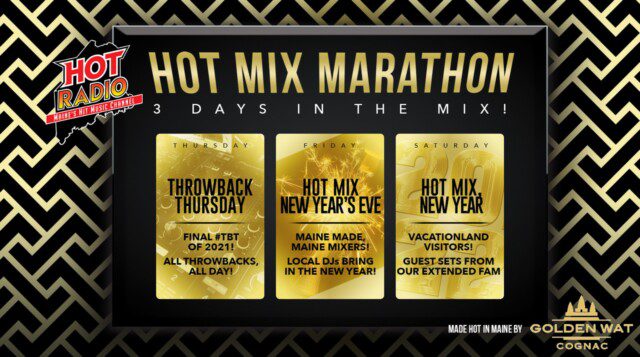 We're bringing in 2022 with a HOT MIX MARATHON. Three days OVER 50 HOURS in the mix!
THURSDAY – It's the FINAL TBT OF 2021 – All Throwbacks, All Day!
FRIDAY – Hot Mix, New Year's Eve… #MaineMade #MaineMixers – Your favorite local DJs usher in the New Year.
SATURDAY – Hot Mix, New Year… Vacationland Visitors!! – Guest sets from our extended fam and favorite out of state DJs (including Dillon Francis, Diplo, Shouse, and more)
Mixing starts each day at 7AM and goes until the After Hours. Check below for the full lineup of DJs. New Year Hot Mix Marathon is made HOT IN MAINE by GOLDEN WAT Cognac! Your choice for celebrating life's golden moments. Crafted by Mainers with passion, Golden Wat is available at Hannaford and wherever fine cognac is sold!
THROWBACK THURSDAY
FINAL #TBT of 2021
(All Throwbacks, All Day)
Thursday 12/30/21
7AM-1PM RYAN DEELON
1PM-7PM DJ JON (hosted by Hayley)
7PM – DJ 2-PHAT
8PM – 12AM DJ PUP DAWG (hosted by B. Aull)
HOT MIX NEW YEAR'S EVE
MAINE MADE, MAINE MIXERS
(Local DJs Bring In The New Year)
FRIDAY 12/31/21
7AM – RYAN DEELON
10AM – DJ 2-PHAT
12PM – TIDBIT (hosted by Tara)
2PM – DJ TOMAS TOMAS (hosted by Hayley)
4PM – DJ REVOLVE (hosted by Hayley)
6PM – DJ JAY-C
8PM – DJ JON
10PM – RYAN DEELON (cntdn w/ Tara & Hayley)
1AM-3AM After Hours NYE w/ DJ JAY-C
HOT MIX, NEW YEAR
VACATIONLAND VISITORS
(Guest Sets from Out of State DJs)
SATURDAY 1/1/22
7AM – DJ NYSE (NY) (hosted by Ryan)
8AM – DJ EVER (CA) (hosted by Ryan)
9AM – DJ PUP DAWG'S TOP 30 CNTDN
12PM – RADIO VIJAY (PA)
2PM – NICK FERRER (CA) (hosted by Ryan)
3PM – DJ P-JAY (CA) (hosted by Ryan)
4PM – DJ JULES FLAVA (MA) (hosted by B. Aull)
5PM – DJ E DUBBLE (MA) (hosted by B. Aull)
6PM – DJ PUP DAWG (MA)
8PM – DILLON FRANCIS (hosted by Jay-C)
9PM – DIPLO (hosted by Jay-C)
10PM – DJ GROOVES (PA) (hosted by B. Aull)
2AM – SHOUSE (After Hours Guest Set) (hosted by Jay-C)