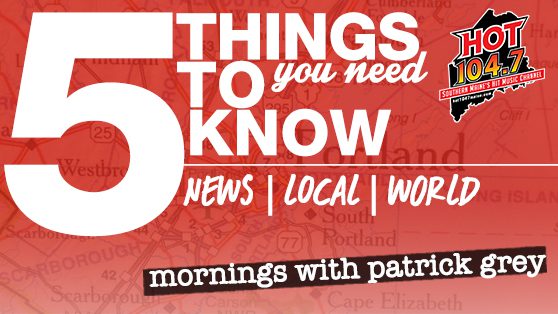 1. Your local Rite Aid may eventually become a Walgreens. Walgreens has made a deal to buy rival Rite Aid for about $9.41 billion in cash, creating a drugstore giant with nearly 18,000 stores around the world.
2. Portland's planning board has voted in favor of creating a historic district at the site of the Portland Company Complex. They'll pass their recommendation on to the city council. The project at 58 Fore Street has been controversial from day one, and Tuesday's planning board meeting was no exception. During public comment, everyone agreed there should be a historic district, but disagreed on how big it should be and how many buildings should be protected.
3. After being burglarized last week, the Patten Free Library in Bath was handed a check on Tuesday covering what was lost. Someone had broken through a window and taken a collection that would have paid for children's programs, new books and games, even a new rug for reading. On Tuesday, Bath Savings Institution presented the library with a check for $1,200; what had been raised so far.
4. An Orlando, Florida, man started camping outside Best Buy for Black Friday this past Sunday–that's 33 days early–in order to raise awareness about homelessness while grabbing a deal on a new TV. Kevin Sutton says he plans to live on food and water that's provided to him through donations, and will use the restroom inside Best Buy during business hours. Sutton hopes his antics will raise awareness of 13,000 homeless children in central Florida. He is accepting gifts, toys and money to donate to the Love Pantry, a non-profit organization that provides food for schools to give to students in need.
5. Today is National Chocolate Day! As if we needed a "holiday" for it, but today is best celebrated with all things chocolate! Get a candy bar, support your local chocolatier, eat some chocolate ice cream… whatever!