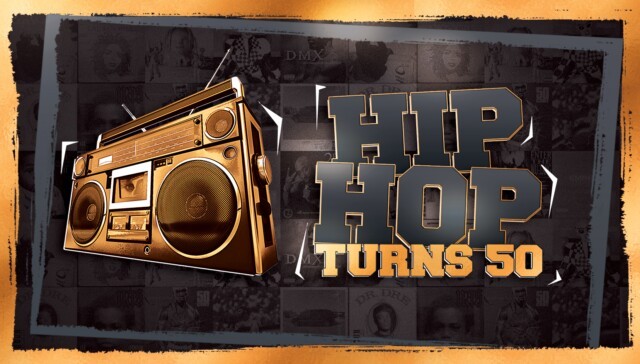 August 11th 1973 at 1520 Sedgwick Ave in the West Bronx Hip Hop was born at a birthday party hosted by DJ Kool Herc! Hip Hop Turns 50 This Year and we're celebrating all 2023!!
If you've never seen it…here's the Kool Herc flyer dated August 11, 1973.

The reason the internet wishes Hip Hop happy birthday every August 11th. pic.twitter.com/0zBWhzHxs0

— KINDA NEAT (@KindaNeat) August 11, 2020
You're cordially invited to Hip Hop's 50th Birthday Party with Hot Radio Maine. Weekdays at Noon listen to the Back In The Day Mixtape with DJ Pup Dawg for all your favorite Hip Hop throwbacks. During the 4:20 Throwback B. Aull educates you with On This Date In Hip Hop History. Tune In every Saturday at Noon for a special Hip Hop Turns 50 themed mix hosted by Vijay.
02/04 12PM
HIP HOP TURNS 50 THEMED MIX
Hosted by Vijay w/ DJ H. Vidal – Rick Ross Mix
2/03 – The king of Reggaeton, Daddy Yankee, celebrates his 46th trip around the sun. Reggaeton evolved from dancehall in Puerto Rico and draws strong influence from hip-hop, with artists like Daddy Yankee bringing it to the mainstream with hits like "Gasolina" and "Rompe" for decades.
2/02 – Shakira celebrates her 46th birthday…and her hips still don't lie. The Latin-pop and reggaeton-infused record featuring a verse from Wyclef Jean still remains a party starter to this day!
2/01 – Half of the legendary ATL duo Outkast and Hot Summer alum Big Boi celebrates his 48th birthday! Here's to celebrations that last "All Night" as we play one of the most successful solo singles of his career
01/31 – Wu-Tang Clan released their single "C.R.E.A.M." on this day in 1994, arguably their most popular and well-recognized song in their impressive catalog
01/30 – Kid Cudi turns 39 years old today! One of the most influential artists of the last 15 years as his crooning has soundtracked many of his fans' memories, and for that we play "Memories" by Kid Cudi & David Guetta
01/28 12PM
HIP HOP TURNS 50 THEMED MIX
Hosted by Vijay w/ Bez Musiq – J. Cole Bday Mix
01/27 – On this day in 2004, legendary Chicago rapper Twista releases his album "Kamikaze" which features some of this most popular songs such as "Slow Jamz" and "Overnight Celebrity"
01/26 – Today marks 3 years since the passing of the late, great, NBA legend Kobe Bryant, his daughter Gianna, and the 7 others who were in that shocking helicopter crash in 2020. To celebrate his legacy, we play Lil Wayne's "Kobe Bryant" from 2009. RIP!
01/25 – OTD in 1981, Alicia Keys was born! One of the greatest singers and songwriters of our generation, she's had hits like "No One" and "If I Ain't Got You" while contributing to major songs like "Empire State of Mind" and "My Boo"
01/24 – OTD in 1970, Sleepy Brown of Organized Noise was born! He sings the hook of Outkast's "The Way You Move", "So Fresh, So Clean", and has been a frequent collaborator and mentor of theirs over the years
01/23 – 2007 MIMS released his debut single "This Is Why I'm Hot"