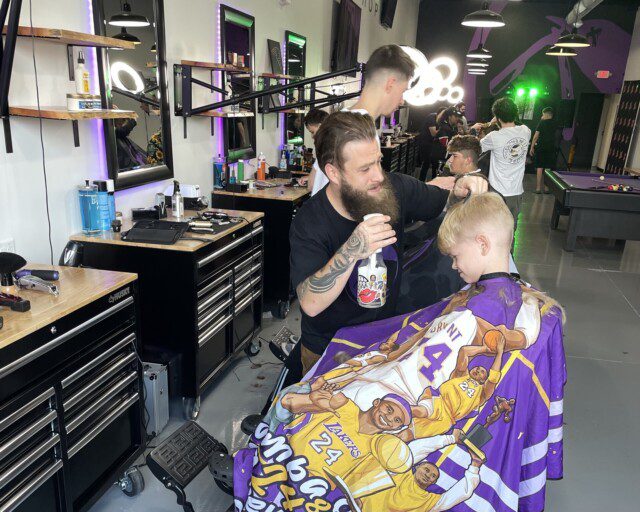 Hot Radio Maine's 1st Annual "Cuts for Class" provided 106 FREE back to school HAIRCUTS for students 18 and under. This promotion was in conjunction with Crow's Nest Barbershop and Dirigo Federal Credit Union. The free haircuts took place Monday August 30th at Crow's Nest Barbershop's Auburn, Maine location located at 600 Turner Street. Eight of Crow's Nest's professional barbers spent eight hours with minimal breaks cutting hair on a first come first serve basis. There was no charge, cost or fees.
Hot Radio Maine morning host and Program Director Ryan Deelon announced the new campaign. "This is another step in our continued efforts to give back to the communities that support us. While an exciting time, the start of school can also be a stressful experience to some who have experienced hardship. We decided to partner with Crow's Nest and buy out the barber shop for the day. It's our hope that this can help take some of the pressure off families during these times. We've received tremendous feedback on the launch of our 100.3 FM signal in Lewiston and Auburn and were excited to be able to hold this event in that community."
Frank Crosen, the owner of Crow's Nest Barbershop partnered with Hot Radio Maine on the promotion and said "As kids get ready to go back to school, we want to make sure they are looking and feeling their best. Parents and students have gone through so much throughout the pandemic, as they prepare to spend money on school supplies and clothing, we're happy to take some of the burden off their shoulders."
Thanks to NewsCenterMaine, Sun Journal, and WMTW for covering this year's event!
Cuts for Class is made Hot in Maine by Dirigo Federal Credit Union… cash back accounts, nationwide ATMS and low rate loans for home and auto. Serving Androscoggin & Oxford counties.
View this post on Instagram
View this post on Instagram
View this post on Instagram
View this post on Instagram
View this post on Instagram