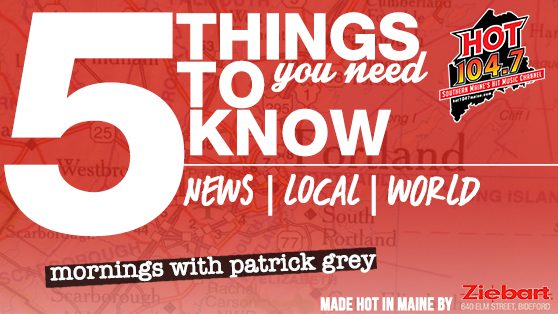 1. Why was the cargo ship El Faro out in the middle of the Caribbean when a hurricane was roaming about? That's the question the owners of the now-lost ship were asked — repeatedly — yesterday during a news conference. They said the ship's captain had a "sound plan" to avoid Hurricane Joaquin. But when the ship's main propulsion failed, the El Faro was left stranded in Joaquin's path. So far, no survivors from El Faro have been found.
2. Hundreds gather at Maine Maritime Academy Tuesday to pray, sing and hope for El Faro crew members. Students, faculty, administrators and alumni of the school hold a somber vigil for four Maine Maritime graduates who are missing at sea. "Look upward, and keep hope in your hearts," MMA President William J. Brennan told the students, many of whom had broken down in tears.
3. Portland is going to drop its effort to ban panhandling in street medians. An initial ordinance in 2013 banned standing on medians for any reason, though it was never enforced.
4. Are you a T-Mobile user? Maine Attorney General Janet Mills says more than 12,000 Maine residents who use T-Mobile wireless may have had personal data exposed in a recent breach. Mills is advising affected customers to contact Experian for free credit monitoring. The breach compromised data that was used by T-Mobile in connection with credit checks of individuals who applied for T-Mobile services between Sept. 1, 2013, and Sept. 16, 2015.
5. An online Christian organization based in Philadelphia warned the world will end Wednesday, the Guardian reported. The apocalyptic prediction comes just one week after the blood moon had people forecasting the end was near. The eBible Fellowship previously predicted the end of the world would be May 21, 2011, but is now certain civilization will be wiped out by fire Wednesday. The fellowship is not a religion, but an online organization that holds meetings once a month.
#5TYNTK Made HOT in Maine by Biddeford Ziebart!