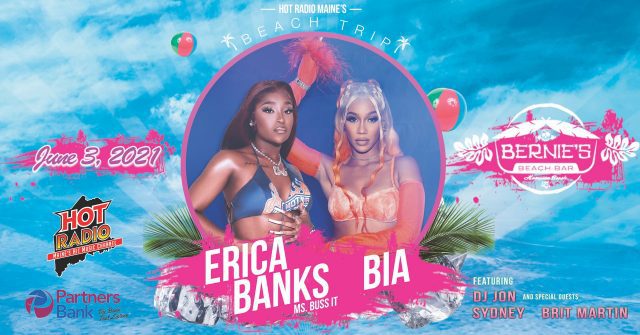 We're taking a trip to the beach and you're invited!! HOT RADIO MAINE's BEACH TRIP with ERICA BANKS aka Ms. Buss It and BIA… JUNE 3RD At Bernie's Beach Bar (Hampton Beach, New Hampshire) featuring DJ JON with special guests SYDNEY and BRIT MARTIN. The Ladies will be representing… All female lineup… OUTDOORS on HAMPTON BEACH! Tickets ON SALE NOW (Limited Availability, Reduced Capacity). It's Hot Radio Maine's Beach Trip with ERICA BANKS & BIA!!!
Made Hot in Maine by Partners Bank! When it comes to great local talent, and a really great Bank, think Partners! On a beach trip… or anywhere, get the customer service you deserve, 24/7. Partners Bank! Member FDIC.
UPDATE – JUST ADDED TO THE SHOW: BIA!!
"Buss It" just proved to the world what Texas already knew: Erica Banks is a real rap spitter who knows an undeniable bop when she makes one. "I have a good ear for music," says the Dallas MC, with an earned confidence beyond her 22 years. "I know what's best for me."
"Edgy but sexy" is how Banks boils down her approach, and that certainly describes "Buss It." The cut cockily draws on Nelly's 2002 monster single, "Hot in Herre," looping an iconic line — "Girl, I think my butt gettin' big!" — into a foundation for Banks to rhyme over. That standout anthem from her self-titled 2020 mixtape took on a life of its own in 2021 after a fan created a dance challenge for it on January 1. By the end of the day it was the soundtrack to about 5,000 TikTok videos. A week later, it was 1 million. Even artists and actors like Monica, Rico Nasty, and Tracee Ellis Ross picked up the challenge. "It's outrageous," says Banks with a laugh.
In a way, though, it's not. Banks has been working toward this moment since she first fell in love with writing as a child. An aspiring poet since elementary school, she graduated from journals to slams to, by the age of 12, freestyling for small crowds of kids during recess. What happened next made perfect sense. "I always said music is poetry, so I decided to just tap into that," she says. By the time she hit high school, Banks was making music while pursuing other interests that would benefit her in the long run. She joined her school's theatre arts class, as well as the cheerleading and drill teams, perfecting her presence. "I always liked the limelight," she adds.
Banks followed that momentum with her debut mixtape, the booming Art of the Hustle, and then two more — Pressure and Cocky on Purpose — all in 2019. By 2020, she landed her first deal, with Texas' tastemaking 1501 Certified Entertainment. This year, Banks went major by also partnering with Warner Records. She felt overwhelmed at first, until she remembered this is right where she's meant to be. "I make turn-up music," Banks says, "so that's what we're going to do. We're going to continue to push it, and keep running the numbers up. What's better than that?"
Sydney is an independent Pop/R&B fusion artist based out of Maine. Her sound is reminiscent of the early 2000's and late 90's era. Her goal with her music is to move you; whether it's physically making you dance, or putting you right in your feels. Sydney is well known for anti-bullying single with DaCav called "Let's Take A Walk", and for the sexy summertime vibes she added to Vado's "Mama Sushi", both distributed by Roc Nation's very own EQ Distro. Outside of music you can find Sydney at heels dance class, late night snacking, and advocating for equality. Sydney intends on continuing her trend of releasing new music monthly, so make sure you follow her to stay tuned. SPOTIFY / TIK TOK / INSTAGRAM
New England based alt/pop singer Brit Martin excels in blending her flair for darkly dramatic productions with the larger-than-life pop vocals she grew up on. In reference to previous musical projects, her voice has been described as "darkly seductive, one that beckons to the listener while being effortlessly cool…that trait in her voice signs with slower melodies that sound like a literal trip (a good trip, of course)." (Rae Lemeshow-Barooshian, babetalk.tv)
As an independent artist she has released 3 singles, including 2 self-produced works "Storm" and "Lost and Found" – establishing herself as a multidisciplinary artist who thrives in the creative space. In all pursuits, Brit draws inspiration from varying genres – pop, soul, alternative, rock, among others – striving to create the music she would like to hear: strong vocals above a diverse and exciting soundscape. MUSIC / INSTAGRAM / TIKTOK / WEBSITE / FB / YOUTUBE / TWITTER