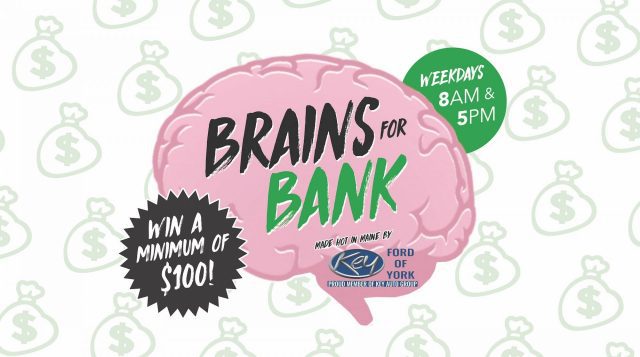 After a year stuck inside is your head full of useless knowledge? Use your BRAINS and win some BANK from HOT RADIO MAINE.
+ Listen weekdays 8AM & 5PM for your chance to win a minimum of $100!
+ Be caller number 10 when prompted.
+ Answer Brains For Bank Trivia question correctly and win CASH!
+ Answer incorrectly and the money rolls over for an even bigger prize next time! *
HOT RADIO MAINE presents BRAINS FOR BANK made hot in Maine by KEY FORD OF YORK… …and coming soon, Key Auto Group's newest location in Maine's midcoast! Use your Brains! Find the best deals at Key Auto group!
* Contestants have 5 seconds to answer. An answer provided after 5 seconds will be treated as incorrect and the money will roll over for an even bigger prize next time.
CONTEST DATES: 4/5/21 – 5/28/21