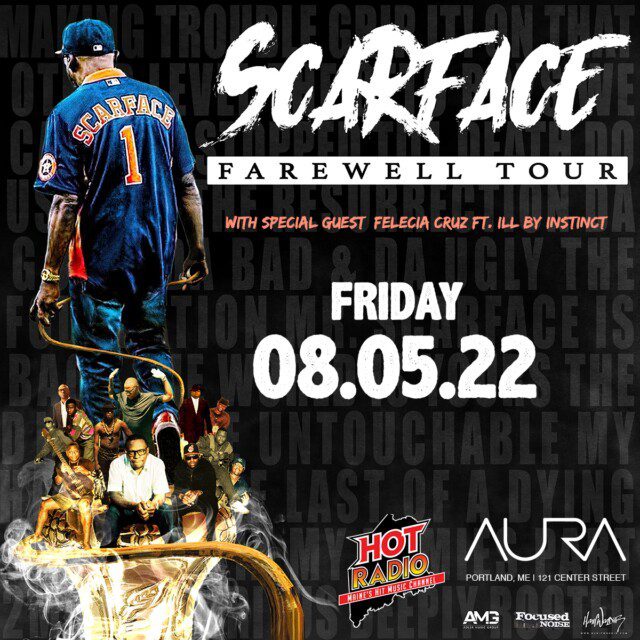 Hot Radio Maine Presents, Scarface in Portland!
WHO – Scarface
WHEN – Friday August 5, 2022
WHERE – Aura (121 Center Street Portland, ME)
TICKETS ON SALE 5/18/22 10a – TICKETMASTER
The Farewell Tour takes Scarface to Portland on August 5th one last time… With live band, Formaldehyde Funkmen and special guests, Felecia Cruz & ill by instinct.
Tickets available NOW.
18+ Show – COVID UPDATE –As of March 14th, AURA decided to lift all VAX ID and negative test requirements for entry to all events and concerts. If there are any performing artists who request any particular health requirements, we will notify patrons clearly and immediately so you can make your own decision if you wish to attend or not. If patrons would like a mask, we can provide one at entry. We have plenty of hand sanitizing stations throughout the venue as well. We still encourage anyone who feels sick or possesses any COVID like symptoms to take care of themselves and stay at home. We appreciate everyone's patience over these last two years. Thank you for standing by us and waiting for our full return. We have monitored this virus closely and always followed the recommendations by the CDC for your safety, our staff's and that of our performing artists. Now that we see the positive forward motion we want to bring people together again through music, social gatherings, fundraisers and business events. The show must go on. Be well and we hope to see you soon at AURA.